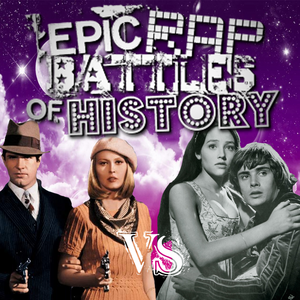 Bonnie and Clyde and Romeo and Juliet face off to see whois the more famous couple.
Kimmy Gatewood as Bonnie
EpicLloyd as Clyde
Nice Peter as Romeo
LisaNova as Juliet 
Note: Clyde and Romeo's lines are bolded, Bonnie and Juliet's lines are italicized, when lineas are said in uinson, it is underlined
Announcer:
EPIC RAP BATTLES OF HISTORY!
BONNIE AND CLYDE!!!!!
VS
ROMEO AND JULIET!!!
BEGIN!
B/C: Eh, Clyde, what do we have here?
Looks like some bitch and a closeted queer!
Ah I see, well it's time to crush
These lil' kiddies and make their blood gush
We were the greatest criminal minds that ever exist
So ya might as well drink poison and go slit ya breast,
Because ya must be suicidal to go against us
Our tale is badass, yours just sucks
So ya better get outta our face you little brits
Ya think we're scared? Heh...we don't give two shits!

R/J: Of all the love stories to ever exist ours is the best known
So stand back, homies you're about to get owned!
We are Shakespeare's best. One of literacies' finest
So Verona-away to your hideout in the west
You're rhymes are the true tragedy here
Our love is well known, thoughts of you disappeared
Buck you two 1920 gangster wannabe fools
Who need to get kicked in the family jewels!
You may seem cool and you're as sly as snakes
But what light through yonder dumbass breaks?

B/C:
Folks hate to read ya and I don't blame them
So go back to your bedroom and weep. Cum on!
We don't need our machine guns ta shoot ya down
We'll just knock ya out with rhymes and knock ya 'round
We'll crush ya chestnuts of that Shakespearian shithead
and tackle this bitch and fill her ass with lead!
No wonder people don't care you're gone and forgotten
You only think ya won 'cause you're both spoiled rotten!

R/J:
Threats will get you nowhere! You're criminally insane
As if you could possibly cause pain
O, you two are fortune's fool
Who are truly fucking crazy if they think they're cool!
Since the beginning we've been Hinton at your defeat
Everyone's glad you both got shot off the street
Beating you batshit burglars was definitely fun
But thou and these woes were all for Rosaline.
WHO WON?
WHO'S NEXT?
YOU DECIDE!
EPIC RAP
BATTLES OF HISTORY!!!
Ad blocker interference detected!
Wikia is a free-to-use site that makes money from advertising. We have a modified experience for viewers using ad blockers

Wikia is not accessible if you've made further modifications. Remove the custom ad blocker rule(s) and the page will load as expected.