EPIC RAP BATTLES OF ALPHYNKING!
Scorpion!
VS!
Sub-Zero!
VS!
Reptile!
VS!
Ermac!
VS!
Rain!
VS!
Smoke!
VS!
Tremor!
VS!
Noob Saibot!
BEGIN!
Scorpion Verse
GET OVER HERE!
I will show you true fear!
Throw my kunai through you!
Then drag you to hell you icy fool!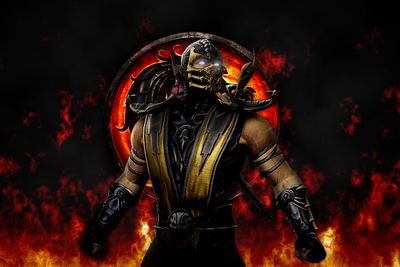 Lin Kuei idiots need to retire!
Because Scorpions spitting verbal HELLFIRE!
Can't stop this spirit of revenge!
Knock you over like it's Stonehenge!
I serve Quan Chi!
Now you can't flow to me!
Vengeance will be mine!
Combos over 59!
Don't even try against Scorpion!
Or you'll get nastily stung, son!
Shirai-Ryu can't be beat!
I trained Takeda, son of Kenshi!
You can't touch Hanzo Hasashi!
Now step off before I use my FATALITY!
Sub-Zero Verse
This fight will be your last!
Why can't you forget our past?
You killed my brother Bi-Han!
But you're the one that wants revenge?
You can't attempt to fight a grandmaster!
I'll slide on my ice you little prick! Tell me who's faster?
Freeze your balls off below Sub-Zero!
Don't mess with Kuai Liang, Hanzo!
I don't think you understand?
The old master had an evil plan!
He wanted to make robots out of the entire clan!
And I was the one who stopped that elderly damn!
You, Cyrax, and Sektor can all suck on my icicle!
All you have is that little limp chain, bro!
Do you even have a Cyber form you asshole?
I'm the the reason the ESRB even exists!
But there's no way Ed Boon would appreciate it!
Now fuck off you little shit!
It's time to FINISH THIS!
Reptile Verse
Yes, it is me, Reptile.
You will both burn in my bile!
I spit acid, s' how I kill my victims.
Now get back or I'll inject in you some!
Feel the agony of my venom!
I was the first secret video game character ever!
So here's my scaly middle finger!
Wrap my tongue around your face!
Because this is a special case!
You can't flow against my noxious fumes!
MKX FUCK YOU!
Ermac Verse
We are many, you are but one.
Fuck you, because you're all done.
It will be easy to kill all of you!
Because I have psychic powers stronger than Mewtwo!
A construct of souls created by Shao Kahn
You so stupid you make me facepalm.
Cryomancer fool, you should be getting on that cold bitch Frost.
You can't hold up against the Error Macros!
That whole rumor's the reason I exist, yo!
You? Don't even try to stand up to me!
Because I'm a spectral MC
all the way from UMK3!
Rain Verse
You frozen bastard! Why you getting laid?
Because I'm about to Rain on your parade!
Drown you till wash away.
Carried afar by the waves.
After I'm done you'll all be my slaves.
Because I'm an Edenian prince, knave!
Trap you in a bubble,
Kick your ass off-screen,
You can't flow to me,
C'mon, I was DLC!
You may as well call me Prince
Because I'm the Purple Rain
Now bow down to me,
Royalty.
Smoke Verse
Hello, fellow warriors,
You are about to feel my wrath,
Oh Rain why don't you give the Saurian a bath!
I don't think you wanna fight an Enenra!
I'll mist teleport all over your ass-a!
I'm such a fan favorite I got my own Faction Kill!
Now you'll all be filled
With Smoke from the Netherrealm!
Screw all of you!
I'll show what my vapors can do!
Oh hey, who the hell are you?
Tremor Verse
Oh hi!
I'm the badass new guy
I'm gonna kick your ass till ya die!
I don't think you wanna get pwned
By earth powers of rocks and stones
Kombat Pack final character!
I'll show you I can beat Johny Cage, the actor!
The earth trembles at my feet!
And you all hide under sheets
As I walk in all your Earthrealm streets
Killing everyone you care about!
Black Dragon soldier coming at you, oh!
Now dragging your corpse back to Kano!
Noob Saibot Verse
Hello, brother.
In the name of our mother
Let's kick the asses of these fuckers.
You can't touch me!
Cause we
Are dark shadowy
Wraith Gemini
Troll Hammer your skull
Till the X-Ray meter's full
Throwing shurikens up your asshole!
Don't even try against the Noob! And Saibot!
Pure darkness spirits can make sure you get taught
How to live!
NOT!
I'm an MC reaper coming for your soul!
My evil presence is taking it's toll
soon you'll all be dying from my Troll!
Hammer! Yo!
(suddenly out of the darkness..)
Khrome Verse
Now, you don't know me me.
But one day, I'm sure as hell gonna be DLC.
The name's Khrome bitch!
Come at me you witches!
Cause I'm here to kick all your asses with rhymes!
Because you've all run out of time!
Starting with you there, Scorpio! Stop trying to kill Sub-Zero!
Why can't just make up like a normal video game hero!
And then you, grandmaster!
Stop being a dick and get over the fact
that fire-pants over here is more badasser!
Don't even get me started Reptile!
No one cares about your bile!
Now shut the fuck up because you're a pedophile!
Leave that annoying Ferra alone, you're in denial!
And Ermac, you're a glitch in the matrix!
And I don't give 2 shits!
Now fuck off, or you'll be sucking my dick!
Rain, you're named after a Prince song, are you kidding me?
And I can't even bring up your role in the movie!
The only reason you were DLC
was because the fans wouldn't stop bitching about your water powers from the sea!
Smoke, you were left out of MKX.
So stop whining, you bitch!
And I for one, am no fan of your mist!
Tremor, the only reason you're here
Is because you're so obscure
that players wanted more!
But the saddest part is no one likes you because your powers are a bore!
And finally, I'mma troll this n00b, MLG!
You and your clone can go have a tea party
because you're so spammy
that no one wants to play an OP character, HEAR ME!
All of you ninjas are pathetic!
Get some creativity,
or at least call the medic
because in few moments you'll be kicked
and I'll show my shining brilliance!
I can control liquid metal,
form blades and bend light!
All of you are gonna take a shite!
I'M SO POWERFUL BOON
DECONFIRMED ME
BECAUSE YOU ARE ALL NOT WORTHY
OF FACING ME,
A BADASS NINJA MC!
WHO WON! WHO'S NEXT!
EPIC RAP BATTLES OF ALPHYNKING!
I'm also taking ANY suggestions from anyone who sees this...hope you liked it! I'd also like feedback as well. Bye!
           -AlphynKing, Epic Rap Battles of History Wiki, 2015
[READ]