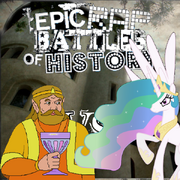 EPIC RAP BATTLES OF HISTORY!!!
King Hariken!
VS
Princess Celestia!
K.H
Mah boi.Anothe foe to fight?
Well this time,let`s make sure your series goes right.
Theres only one line of royalty here in hyrule.
Unlike me,your just a complete royal tool.
Please Princesss,fight someone fit for you.
Like a mouse,a cat or maybe a shoe.
Do you know even who your dealing with?
And i thought aliconrs were myths.
P.C
My grandparents told me not duel with imbeciles.
I wish i could forget you,but your visible.
Listen here hariken,no more cheap tricks.
It`s people like you that are just complete dicks.
All you ever care about is dinner.
But for me,I ACTUALLY CARE ABOUT IF MY KINGDOM HAS A KILLER!!!
Even your games made link look stupid.
Even before you were real,your games were ruined.
K.H
You can raise the sun and send the mane six on a quest.
But everyone knows that I am the best.
Every pooper uses me in there vids.
All I ever see you in is troll pics.
P.C
Can you seriously give a fuck about link?
Or are you more intrested in your drink?
Even Chrysails says i`m better than you.
How did you become king in the first place fool?
WHO WON!? (Even tough it`s kinda crappy)
WHO`S NEXT!?
YOU DICIDE
EPIC RAP BATTLES OF HISTORY!!!
Ad blocker interference detected!
Wikia is a free-to-use site that makes money from advertising. We have a modified experience for viewers using ad blockers

Wikia is not accessible if you've made further modifications. Remove the custom ad blocker rule(s) and the page will load as expected.