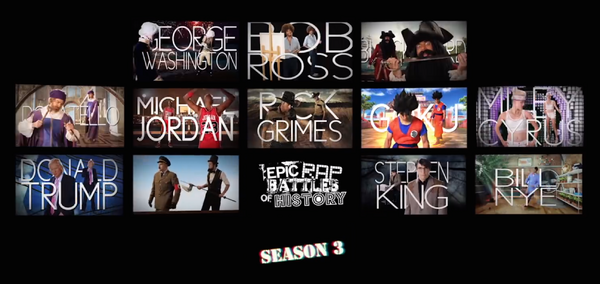 Season 3 is the third season of Epic Rap Battles of History. It consisted of twelve rap battles, uploaded from October 7th, 2013, to July 14th, 2014. The Season 4 polls are located here.
Rap battles
Edit
Cast and guests
Edit
During the first half of the season (34-39), the outro was changed into a semi-3D layout where links to related media, such as the song on iTunes and the YouTube/Vine pages of the guest rappers, were shown in six different screens that were rotating. This was reverted back in favor of the 2D layout they had starting from the second half of Season 3.
This is the second season to not have a third-party rapper, after Season 1.
Seasons of Epic Rap Battles of History







S E A S O N 1 • S E A S O N 2 • S E A S O N 3 • S E A S O N 4 • S E A S O N 5