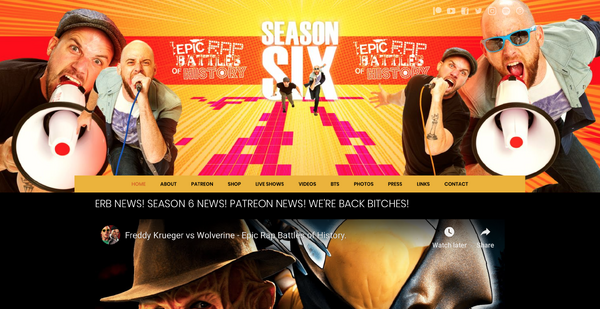 The Epic Rap Battles of History website is the official website for the Epic Rap Battles of History series. It was first advertised during the Behind the Scenes video for Cleopatra vs Marilyn Monroe by ERB crew member Jon Na.
The website includes the ability to view every ERB that has been released (in addition to news videos, content released on the ERB2 Channel, exclusive behind the scenes videos, and content released by Nice Peter and EpicLLOYD on their respective YouTube channels), a forums section, contact information, social media browsing, and an official shop that sells ERB-related merchandise.
Napoleon vs Napoleon is missing from the homepage, but it is still available for viewing.
As of April 2017, the site is currently down and undergoing maintenance, so visiting is unavailable.
External links
Edit
Ad blocker interference detected!
Wikia is a free-to-use site that makes money from advertising. We have a modified experience for viewers using ad blockers

Wikia is not accessible if you've made further modifications. Remove the custom ad blocker rule(s) and the page will load as expected.