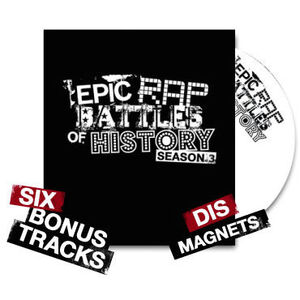 The Epic Rap Battles of History Season 3 CD is a compilation of every rap battle from Season 3 of Nice Peter and EpicLLOYD's YouTube series, Epic Rap Battles of History. It also features six bonus tracks and comes with signatures from Peter and Lloyd.
Tracks included
Edit
Bonus tracks:
Edit
Extra goodies:
Edit
Lyric booklet
Magnetic Dis Poetry
External links
Edit
Purchase it here for $18.00
Ad blocker interference detected!
Wikia is a free-to-use site that makes money from advertising. We have a modified experience for viewers using ad blockers

Wikia is not accessible if you've made further modifications. Remove the custom ad blocker rule(s) and the page will load as expected.