Carl Sagan
Comment

1
313pages on
this wiki
"

I'm about to bake raps from scratch like Carl Sagan

— Stephen Hawking

"
Carl
Sagan



EpicLLOYD as Carl Sagan

Appearances

Born

November 9, 1934

Death

December 20, 1996
Carl Sagan
made a cameo in
Epic Rap Battles of History 7
and was played by
EpicLLOYD
.
Information on the cameo
Edit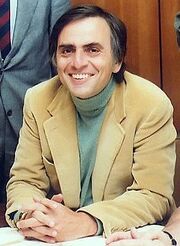 Carl Edward Sagan (November 9, 1934 – December 20, 1996) was an American astronomer, astrophysicist, cosmologist, author, science popularizer and science communicator in astronomy and natural science. He is mostly known for his science books. Most of his career, he was a professor of astronomy at the Cornell University. He also co-wrote the 13-part series: 'Cosmos, A Personal Voyage'. At the age of 62, Sagan died of Pneumonia.
Appearance in the rap battle
Edit
In Epic Rap Battles of History 7, Sagan appeared after Stephen Hawking said the line, "I'm about to bake raps from scratch like Carl Sagan."And then he appeared again when Stephen Hawking said "I'm a super computer you're like a TI-82".